Volunteering
We are always looking for willing volunteers to join our friendly team. Jobs available range from driving trains to serving teas and coffees or even completing general maintenance.
If you are interested please contact us for more information, or join the Friends below and mention that you are interested in volunteering.
Become a Friend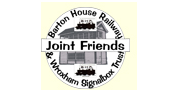 Become a Friend of BHR to help support the railway and keep up to date with our current news and events.
Friends will receive our newsletter and invitations to special Friends events.
If you would like to become a Friend, please contact:-
Membership Secretary,
17 Frensham Court,
Highbury New Park,
London N5 2ES
Enquiries Tel: +44 (0) 20 7359 0442
e-mail: This email address is being protected from spambots. You need JavaScript enabled to view it.